REBUILDING
IS
RECYCLING
It's good for the
environment!
| | |
| --- | --- |
| | ERA News!- Effective October 1, the ERA website in under new management. Apptrak has now assumed responsibility for upkeep and maintenance of the site. Apptrak's programming manager, Dustin Baker, is currently working to find solutions to the problems that you have been experiencing. If you have any questions, please call the ERA office. Your patience is appreciated. Next ERA Show — Springfield, Missouri — April 4 — 6, 2019 Mark your calender now! |



ERA Membership Benefits!

When you become an ERA member, you gain immediate access to many different small business services and discounts, a forum composed of industry experts and fellow rebuilders and a wealth of valuable information. Together, these resources can help you lower your costs, boost your profits and deal with the unique challenges of running your electrical rebuilding business.

As a member of the ERA, you support the electrical rebuilding industry and can also make new friends along the way!

Take a video tour of the ERA Web Site

If you are an electrical rebuilder, dealing with starters, alternators and generators, we are here just for you!

Our purpose is to help you succeed in business!

There's so much information on this website, that we created this video to be sure that you don't miss any of the valuable resources that come with your ERA membership.


Watch it here or view the larger HD version on YouTube



What's the Electrical Rebuilder's Association About?

Get a sneak peak at what goes on at the Electrical Rebuilder's Association conventions and website.


Hear what people in rebuilding industry have to say about the Electrical Rebuilder's Association.


See first-hand how the ERA can help you and your business!


Watch it here or view the larger HD version on YouTube
ERA Exchange Members' Magazine

ERA members can download the latest edition of the ERA Exchange, at their convenience, in an easy-to-read PDF format.

Whether you want to read Mohammad Samii's latest column, browse the classifieds or look for the latest rebuilding tips, you can always find it here online.
New Warning Label

All labels are printed in bright color on a heavy heat-resistant stock with high-bond adhesive backing. They are laminated with a clear layer that is resistant to oil, gas and water.

These labels will give your products a professional look that will set them apart from the competition. They are made to last.

Labels are affordably priced and can be ordered right off of the ERA website or by calling the ERA office at: 636-584-7400. Order yours today. All prices include free shipping.
Auto Parts Professional's Guide
for Selling Rebuilt Electrical Products

This handy reference book was written specifically to help sales-counter personnel and installers by answering the questions they ask most. Easy-to-understand text, along with charts and color diagrams, make charging and starting systems seem simple. This 24-page book can help rebuilders train their employees and customers alike. It contains tips and advice on everything from common failures and their causes to testing for voltage drops.

This book can increase your profits by reducing warranties.
More Information
Advanced Soldering Techniques

This 100-minute DVD covers all forms of soldering used in automotive electrical rebuilding. It's the perfect training tool for teaching new employees the fine art of soldering or an excellent refresher course for old-timers. Everything you ever wanted to know about soldering is covered in this presentation.
More Information
Partnership with Apptrak Brings Deep Discount for ERA Members

Apptrak is a web-based starter/alternator information database tool created for electrical rebuilders and managed by the electrical rebuilder, Whatcom Electric. Having the parts and cross-reference information that you need, right at your fingertips, saves you time and eliminates trial and error guess work. Apptrak is designed to help electrical rebuilders operate more efficiently and produce a higher quality product by quickly providing the data that they need when they need it.

Apptrak Online includes:

Application look-up
Unit cross reference
Parts breakdowns
Clear unit photos and specs
Unit substitution information
up-to-date industry pricing
Keep your own notes

Try it before you buy it! Apptrak offers a free two-week trial for rebuilders.

$395/year—Includes two users per business

$249/year—Special price for ERA members. Includes two users per business

Sign up today! Call 360-255-5990 or Send Mail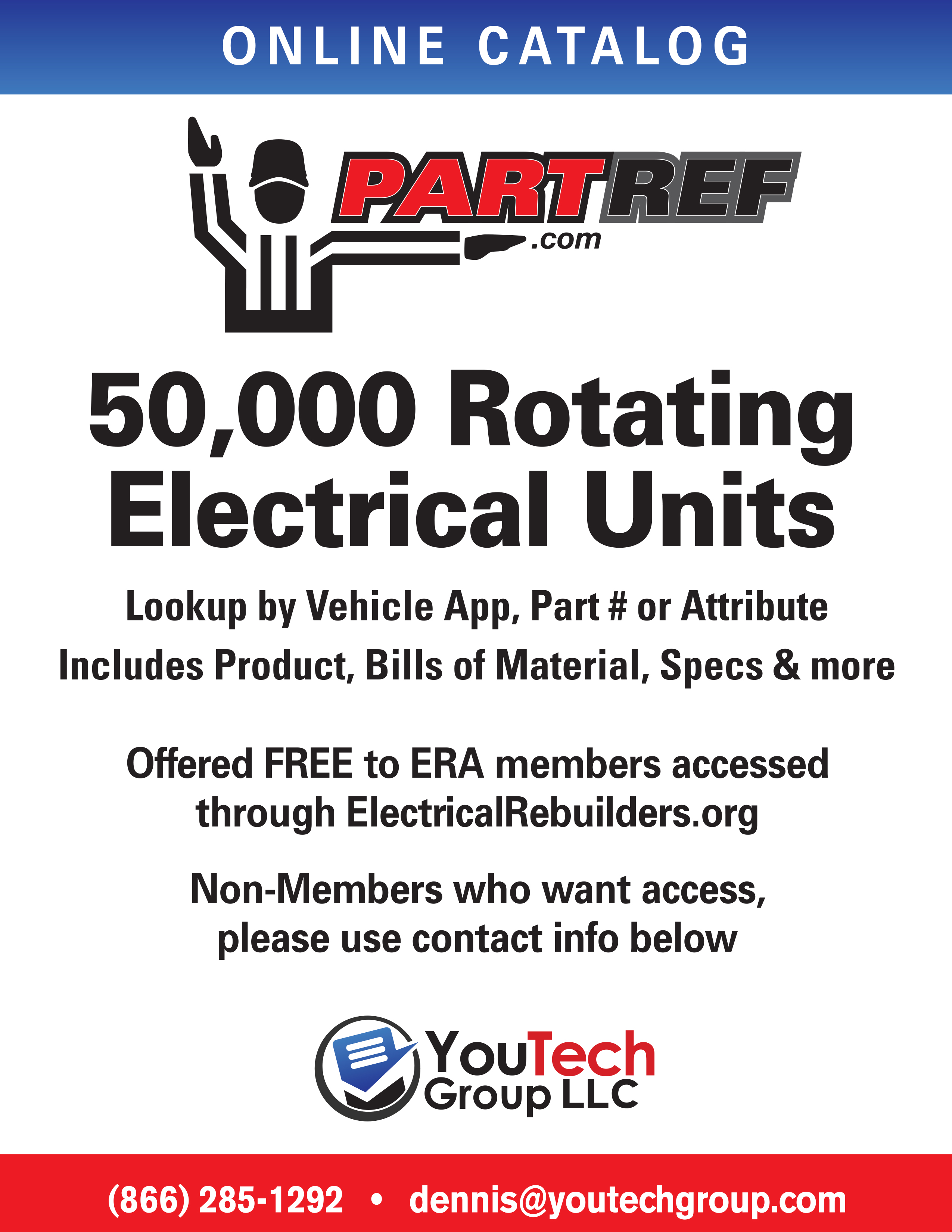 Warranty/Defect Claim Form

When problems arise, this form promotes good communication between suppliers and rebuilders.

Free download for anyone in the electrical rebuilding industry.
Contact Information

Electrical Rebuilder's ASSOCIATION
Phone:
(636) 584-7400
Fax:
(636) 584-7401
E-mail:
office@electricalrebuilders.org
Mail:
Electrical Rebuilder's Association
P.O. Box 906
Union, MO 63084
Office Hours:
Monday through Friday from 9:00 am to 5:30 pm

An ERA Publication
AD SALES: Stephanie Schroeder
Any questions regarding advertising in the magazine please contact Stephanie Schroeder by email. Emailing is much faster as well as more reliable. Email response time is anywhere from 1 to 24 hours.
E-mail:
smsdesigns@hotmail.com
Mail To:
Electrical Rebuilder's Association
P.O. Box 906
Union, MO 63084
ERA Events
& News
12/19/18

2018
Sep 05
Sep 05
Aug 02
Aug 02
Jul 05
Jul 05
Jun 07
Apr 10
Welcome!
New ERA Members

Mike's Electric & Small Engine Repair
Metropolitan Distributors
Howees Machine Shop